Lockdown measures in France – COVID-19
This page is regularly updated.
Most recent update: 2 November 2020 at 20:00
On 30 October 2020, France implemented a strict lockdown. We are glad to announce that our business will continue to operate during this lockdown period.
Relocation services
Immigration formalities
The French authorities continue to operate despite the heightened health emergency measures. Internal European borders remain open and external borders are closed, except for essential travel. For the time being, people able to provide an international travel certificate (download it here) may travel to France. French consulates continue to issue visas for a certain category of individuals (e.g.: Talent, ICT (intra-company transfer) and Trainee passports, etc.).
Finding accommodation and finding schools
For the time being, our staff can only offer you virtual visits of properties, as in-person visits are banned for private individuals. There are restrictions nevertheless: some agencies are closed and some apartments cannot be visited at all.
Schools will stay open but face masks are compulsory for everyone over the age of 6.
Social security affiliation
We continue to process files as normal.
Visa applications
The consulates of third-party countries in France seem to be applying different rules. Please contact us if you have a specific request.
Relocation
Our priority is to guarantee the safety of our clients, our staff and our business partners. In this context, we have put a heightened safety protocol in place. It establishes provisions, for instance, for us visiting our clients: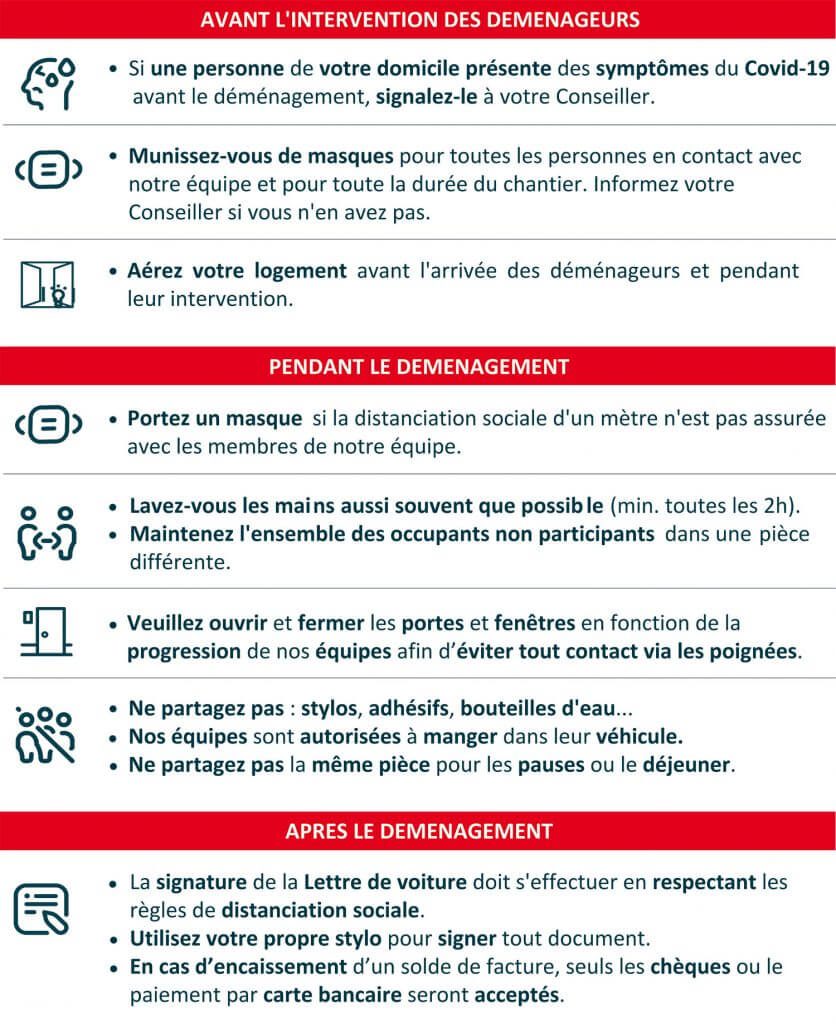 These measures may be modified.
If you intend to relocate in the next few weeks, please contact us without delay in order to organise and plan your move.
Our staff are available and are just waiting for you so that they can get on with the job.
Take care of yourself and your loved ones,
The France Global Relocation Team
Most recent update: 4 June 2020 at 17:45
EXTENSION OF THE PERIOD OF VALIDITY OF CERTAIN RESIDENCE DOCUMENTS
According to the press release from the French Ministry of the Interior of 29 May 2020:
• Automatic 6-month extension of documents expiring between 16 March and 16 June 2020, no formalities required.
• The submission of residence permit applications will resume only on appointment or by postal correspondence – face-to-face appointments will resume progressively.
• Holders of a residence permit expiring after 15 June will be processed first.
• As of 18 June, an online service will be opened for the renewal of receipts, duplicates, DCEMs (travel documents for foreign minors) and changes of address.
The external borders of the European Union will remain closed until further notice other than exceptions.
Most recent update: 28 April 2020 at 14:00
Dear clients, Dear colleagues,
The world has been affected by an unprecedented epidemic which has frightened and destabilised the entire planet.
Our thoughts go out first of all to those who have been directly or indirectly affected by the disease. And to those people in your social or professional circle who are experiencing difficulties during this period.
On 16 March last, France introduced strict lockdown measures. By means of a Ministerial Order, the removals profession had to cease operations. Only operations described as 'exceptional situations' relating to health or social emergencies were able to continue.
The large majority of the profession demonstrated courage and responsibility in abiding by the government's directives, as well as inter-professional solidarity and concern for the population of which our industry should be proud.
Towards a resumption of business
We are glad to announce the resumption of our business as of 11 May 2020. But the lifting of the lockdown announced by the government does not signify the end of the epidemic and the precautionary measures in place.
Relocation and immigration
For the time being, administrative formalities continue to be severely disrupted. At the time of writing, we have no further information on the reopening of consulates, prefectures and the DIRECCTE (Regional Department of Enterprise, Competition, Consumer Affairs, Labour and Employment). We can nonetheless start work on files by beginning to gather together the necessary paperwork.
Looking for accommodation will be possible, as in normal situations, as long as the health and safety rules are respected. These may vary from one estate agent to another. But, generally speaking, they are as follows:
• Respect for precautionary measures
• The wearing of face masks and gloves
• The use of alcohol-based hand gel
• Safety distance to be observed within the vehicle
• Removal of one's shoes before entering a property to be visited
• Ideally only 1 person per family (2 at most)
• No touching cupboards, doors or windows during visits
• Signature of leases by electronic means whenever possible
• Initial and final inspections of premises is currently being performed in the absence of the tenants. Any comments may be added at a later date
• Handover of the keys: keys cleaned with alcohol-based hand gel, keys in a sealed envelope.
Relocation
Our priority is to guarantee the safety of our staff, our clients and our business partners. In this context, we have put a COVID-19 safety protocol in place. This establishes provisions, for instance, for visiting our clients:
• Temperature taken when starting work
• Observance of precautionary measures
• Face mask worn by everyone if it is impossible to maintain social distancing of one metre
• Safety glasses or visors in cases where a load is carried by two people less than one metre apart.
For greater safety, unless technical constraints dictate otherwise, sales meetings will be conducted by video conference.
These measures may change. We will keep you informed.
If you intend to relocate in the next few weeks, please contact us without delay in order organise and plan your move.
Our staff are at available and are just waiting for you so that they can get on with the job.
Take care of yourself and those around you. We can't wait to see you again in person.
On 24 April 2020 at 12:00
On Monday 16 March 2020, the French President announced a national lockdown to combat COVID-19. This lockdown came into effect at 12 noon on Tuesday 17 March across the whole of France for 30 days, renewable. On 13 April 2020, the President announced the renewal of the lockdown until Monday 11 May 2020.
This decision has a major impact on any travel undertaken by the population. Travel is permitted only in the following cases:
• To go to work if remote working is not possible
• To purchase essential supplies from authorised outlets
• To visit the doctor
• To help vulnerable people or take children to childcare facilities
• To take individual physical exercise
Infringements of these rules will be sanctioned by a fine of 135 euros and may increase to 375 euros and 1,500 euros in the case of repeat offences!
#StayHome
#ResterALaMaison
What is the impact on the business of France Global Relocation?
A BUSINESS CONTINUITY PLAN HAS BEEN PUT IN PLACE FOR FRANCE GLOBAL RELOCATION
France Global Relocation has put a business continuity plan in place and all of its staff are remote working. Ongoing jobs will continue insofar as the restrictions imposed by the state of emergency allow.
All face-to-face meetings with the authorities, banks, schools, etc. have been postponed until further notice.
We are currently working on alternative solutions in order to continue to offer our services. We continue to handle the day-to-day management of ongoing jobs and maintain contact with our clients.
We are monitoring the situation daily and we will inform your of any new developments. If you have any questions, please address them to your usual contact at France Global Relocation.
For more information on our various services during this crisis period (relocation, immigration and moving house), details can be found under the following headings:
RELOCATION SERVICES
The measures put in place by the French government currently prevent us from accompanying our clients to meetings (e.g.: looking for accommodation, signing lease contracts, formal inspections of properties).
FGR nevertheless continues to offer the following services:
• Needs analysis
• Information on the rental market
• Online property searches
• Read-through of home leases and negotiation
• Taking out utilities contracts (electricity, etc.)
• Subscription to Internet contracts
• School advice and enrolment (if possible)
• Booking temporary accommodation
• Opening bank accounts
• Taking out multi-risk home insurance
Once the lockdown measures are lifted, we will reschedule all meetings with clients.
IMMIGRATION & ADMINISTRATIVE FORMALITIES
Public services are closed and have considerably scaled down their activities. All appointments have been cancelled until a later date. All foreign nationals will be given a new appointment when the public services reopen.
In order to guarantee the legal status of people in France, the government has decided to extend the period of validity of residence permits held by foreign nationals in France by up to 6 months.
The extension of the period of validity of such documents is therefore set at 180 days (Order No. 2020-460 of 22/04/2020) from their date of expiry (provided that the document expired between 16 March and 15 May 2020).
The categories of permits affected by this measure are:
• Long-stay visas
• Residence permits
• Temporary residence permits
• Receipts for applications for residence permits
• Asylum application certificates
It is strongly recommended that people who find themselves in this situation do not leave the country. There are no guarantees that they will be allowed back into France without obtaining a return visa.
France Global Relocation continues to offer the following services:
• Visa applications for third countries (if possible)
• Initiation of applications for immigration to France
• Case studies
• Social security affiliation
• Advice to clients on the aforementioned issues
RELOCATION
Relocation activities are suspended as of 18 March 2020 and until the end of the lockdown imposed by the government.
To anticipate this, we are not scheduling any further relocations before 15/04/2020. These dates may change depending on government measures.
We are also maintaining reception activities at our depots for relocations coming from abroad.
France Global Relocation continues to offer the following services:
• Telephone helpline and email processing
• Tracking ongoing cases
• Sales activity – Estimation of volume by inventory or video conference
• Relocation planning
Your plans are still in place… They've just been postponed…
If you want to organise a move in the coming months. We can only encourage you to plan ahead for your future needs.
Please feel free to get in touch for a telephone appointment with a sales consultant, schedule a virtual visit to estimate your volume, or plan a non-binding relocation operation after 15 April 2020.
Any questions? Please contact us at info@fgrelocation.com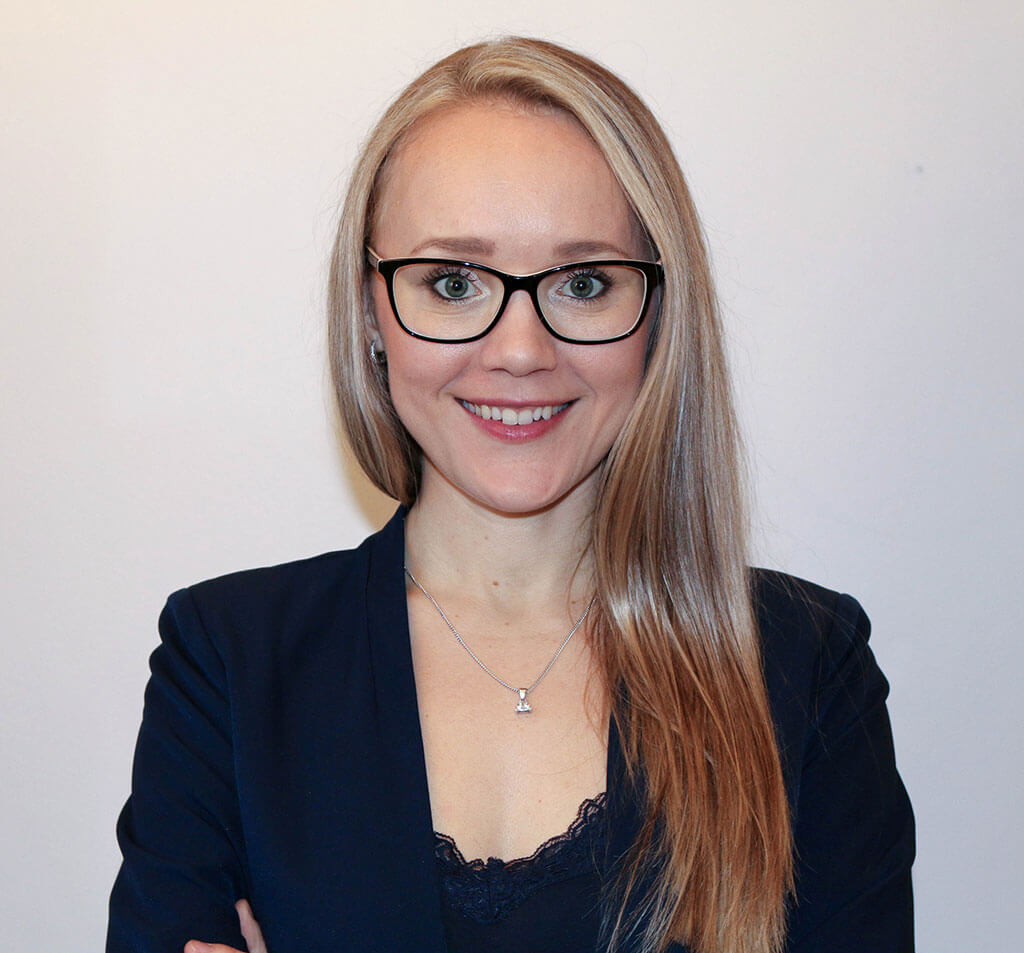 Expatriée à Paris, passionnée par la communication interculturelle et les langues étrangères.